OUTDOOR TRAVEL

 

offers an extensive range of motorhomes, travel trailers, and fifth wheels in various sizes and models.  Our professional, experienced staff will assist you in selecting the appropriate vehicle that caters to your specific vacation and budget.  Outdoor Travel is open all year round.  We provide competitive rental rates on:

 


Class A:

 

30' - 36', with optional slide rooms

 


Class C:

 

22' - 31', with optional slide rooms

 


Travel Trailers:

 17'
"Class A" motorhomes

 

are generally the top of the line in RV's.  They range in weight from 15,000 to 30,000 pounds and stretch from 30 to 40 feet in length.  Describing them as "motorhomes" is no exaggeration.  "Class A" units come with almost every creature comfort you would expect in a home, minus the front lawn.  They are frequently constructed on custom undercarriages or on a 3-10 ton truck chassis.  Many "Class A" units also feature an automatic slide out.  At the touch of a button, a portion of the RV's exterior wall extends outward to expand its living space.  The driver's area is accessible to the living area, which includes kitchen, sleeping, bathroom, and dining facilities, as well as a full array of apliances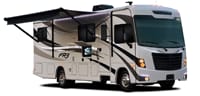 and entertainment features.  Systems include electricity, heating, air conditioning, water, and propane gas.  These units can sleep up to

 
eight people, depending on the model and the floor plan.
"Class C" motorhomes range in weight from 10,000 to 12,000 pounds and stretch from 20 to 31 feet in length. They are generally constructed on a larger van chassis, which makes driving compartment similar to a van and like the "Class A" is accessible to the living area. "Class C" motorhomes usually come with a large bunk bed above the cab, in addition to a bedroom in the rear of the unit. Many of these units feature a slide out to quickly increase the motorhomes living space.  They contain kitchen, sleeping, bathroom, and dining facilities, as well as a full array of appliances and entertainment features.  Systems include electricity, heating, air conditioning, water, and propane gas. "Class C" motorhomes can sleep up to ten people depending on the model and floor plan
Viking Travel Trailers

 

are 20' in length and require a heavy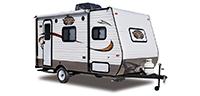 - duty vehicle to tow them.  They have full living, k
itchen, sleeping, bathroom, and dining facilities; but these units can not be used while driving.  Travel Trailers can be parked a campground while the tow vehicle is used for transportation.  Please check with Outdoor Travel prior to renting to ensure your tow vehicle is equipped with the proper hitching equipment, brake controller, and wiring.

Disclaimer - Actual RV's may differ from photos shown.  Floorplans, options, and equipment may vary from those listed.  Pricing and specifications are subject to change without notice.  Pricing is based on both time and distance traveled.